Financial Management
Comprehensive Retail Accounting System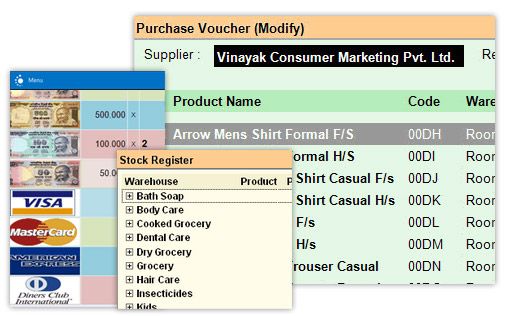 Why Accounts?
To know income, expenditure, assets, liabilities, profit and loss
Law demands it
To submit returns and reports to tax department
Business auditors demands it
It provides processed feedback to management to evaluate performance and take necessary actions
To create accountability
For posterity (hand away responsibilities and system from one to another, one generation to another)
It is observed that 60% of retail business transaction comes from inventory activity such as Purchase, Purchase Return, Sale, Sale Returns etc. This integrated system will automatically update necessary data into books of accounts. The balance 40% of your accounting information consists of transactions like receipt, payment, journal and contra vouchers.
RanceLab® FusionRetail™ 6 Financial Management is an integrated financial accounting system. This helps you to keep financial records efficiently. This eliminates errors and delay resulting from duplicity of work.
Contra
This voucher is used when you transfer fund from one bank to another, from Cash Book to Bank and vice versa.
Receipt
This voucher involves receipt of money.
Payment
This voucher involves payment of money.
Journal
This voucher is entered for all other types of non cash transactions (e.g adjustment for Depreciation, Liabilities for expenses, pre paid expenses etc).
Display and Navigation
You can view all type of vouchers in this report. This give fast navigation and makes modification faster. You can use page – up or page-down keys to move through the vouchers.
Reports:
Daily Transaction Sheet
Bank Book
Cash Book
Ledger Report
Group of Ledger
Day Book
Journal Book
Fund Movement
Trial Balance
Profit and Loss Account
Balance Sheet
Tax Register
Cost Centre Report